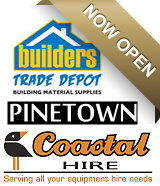 We have opened another satellite outlet for your convenience. We have offices located in the contractor's yard of Builders Trade Depot.
This is being run as a joint venture with Builders Trade Depot to bring hire equipment to you as a one stop shopping experience, and in this way you will be able pick up all you hardware and hire equipment at the same time all in one location. This is a pilot opening and if this outlet proves successful then these types of outlets will be rolled out to all Builders Trade Depots nationwide.
The travelling sales reps from Builders Trade Depot will be punting Coastal Hire on their trips as well, as they have been supplied with fliers showing that we are in the BTD contractors yard. We are also advertising in the contractor's yard to all the builders passing through, making this a very good advertising opportunity.
The way we will be working – we will be opening cash accounts for everyone who comes to see us and wants to hire equipment and this means that anyone who hires on a cash account will be expected to pay for their hire immediately on presentation of the invoice. If they do not have a BTD account they will be treated as a normal cash hire account where they will be required to supply us with all the relevant documentation as well as a deposit before being allowed to take the equipment. Obviously this will be for any persons who have not hired from Coastal Hire Pinetown before. Those customers who have hired from Coastal Hire Pinetown previously and want to collect equipment from Builders Trade Depot can come along and hire on their normal account without having to present the above needed documentation.
For those customers who have a BTD account, they will still be required to come onto our books as a cash account but they will not be required to supply us with a deposit. They must however supply us with all the necessary documentation to open the cash account as well as their Builders Trade Depot account details. Their BTD account status will be checked prior to being allowed to hire each time a hire is to be carried out. Once we have verified that they do in fact have a BTD account and they are in good standing with BTD, they will be allowed to take equipment and the invoice for the hire will be transferred to their BTD account and treated as a normal purchase on their account with BTD.
We are very excited about this and have gone to some extraordinary lengths to get this to work. There will be supply of all types of equipment at the BTD outlet.
Our hours of business are also extended, as we will be following the same hours as BTD does ie.
Monday to Friday 7.00 - 5.00pm, 
Saturday 7.30 – 1.00 and Sunday 9.00 – 1.00
This now gives our customers the opportunity of being able to return equipment on a Sunday morning to avoid being charged for Sunday.